Triton DTS® Basic System Accessory Package
Triton DTS systems include the innovative TRT 600 treatment platform, a state-of-the-art Triton DTS Traction Unit, and our exclusive QuikWrap™ belting system. The inherent flexibility of the Triton DTS Basic System allows clinicians to treat a wide variety of back conditions.
Triton DTS Basic System Accessory Package includes:
• Triton DTS Traction Unit (not sold separately) – The TX Traction Unit, is easy to operate. Has a 270° Pivoting User Interface, with a Digital Monochromatic Touch Screen Interface. The Patient Data Cards record up to 14 treatment sessions, and can store up to 10 user defined protocols. The TX Traction Unit has Intermittent, Static and Cyclic Traction, Progressive and Regressive steps. User-defined Hold, Rest and Treatment times. The Traction tension parameters: 0-200 lbs.
• QuikWrap Belt System – The Deluxe Universal Belt System assures the highest level of patient comfort without cumbersome buckles and belts. The A/P pull force is distributed evenly to eliminate the slippage typical of older style traction therapy belt systems. Universal fit with hook and loop closures make the Deluxe Universal Pelvic and Thoracic Traction Therapy Belt System the fastest setup ever for your traction therapy. In as little as one minute, you can be wrapped, setup and receiving traction therapy with a level of comfort as never before. Includes: 1420 Thoracic Belt, 1430 Pelvic Belt and 1427 Pelvic Belt Extender
• Bolster Set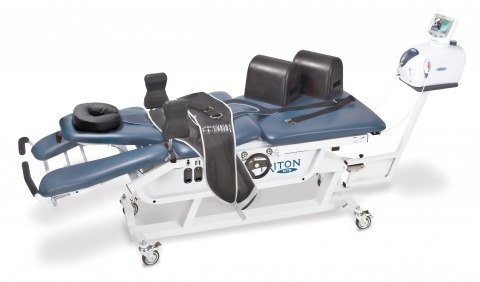 Specifications
Ordering Information
| Part Number | Description |
| --- | --- |
| 8245 | Triton DTS Basic System Accessory Package |
Documents
Documents for Download: