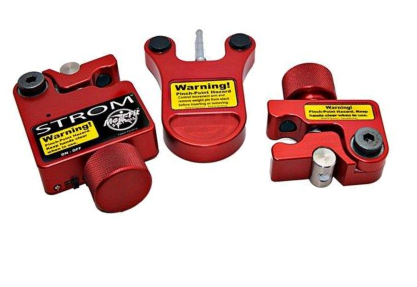 The STROM device allows clinicians to control and document both start point and terminal ROM on virtually all traditional weight stack machines. The patent pending STROM features a cast aluminum start point module to limit start point range, and a mechanical and audible terminal point module.
These modules can be used independently or in conjunction, depending on patient needs and therapist's prescription. The start point module is slid into one of the adjustment holes on the top plate and stem, eliminating the additional weight of simply pinning into the stack, and providing an extra measure of safety for clinician and patient. The terminal range module adheres to the guide rod at the prescribed terminal range, and provides a mechanical and audio impediment.
The audio component is especially useful with machine designs that have obfuscated views of the weight stack excursion. The audio signal features an on/off switch, and is powered by common watch batteries. A less expensive, STROM2 device is available as well. The Strom2 lacks the audio component on the terminal range device.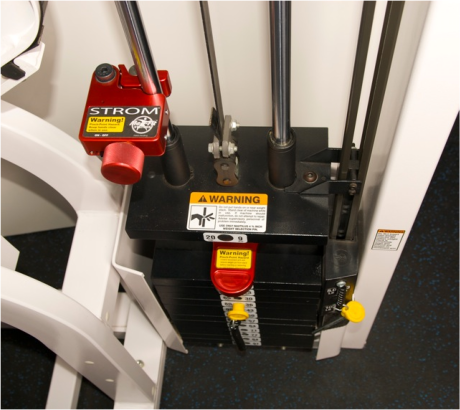 . The STROM ushers in a new era of clinical control with selectorized weight machines. Please contact us to schedule a webinar or clinical demonstration in your facility.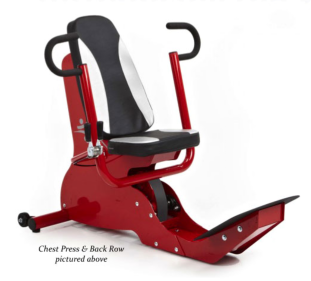 This equipment is perfect for all types of fitness facilites— from standard gyms to women-specific gyms, senior centers or retirement homes, wellness centers for physical therapy rehabilitation, and any other type of commercial gym because of the equipment's unbeatable versatility, user and age friendliness, innovative design, fun and quick workout, and natural fluid functionality making it easy to use by anyone.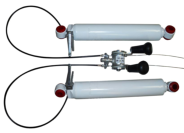 choose from many frame and upholstery colors
click to go to Upholstery Colors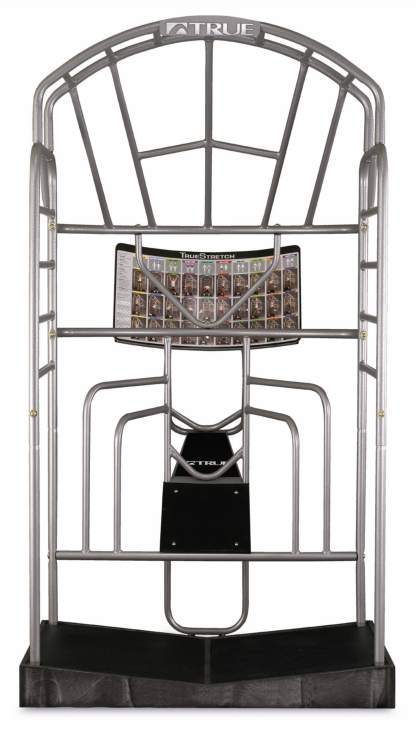 THE ULTIMATE IN FLEXIBILITY TRAINING The TRUEStretch™ was developed by internationally renowned physical therapist Gary Gray and is used by a number of top professional and collegiate teams as well as many professional athletes and their personal trainers. It is also featured at many of the top resort spas around the globe because TRUEStretch is the most effective piece of equipment available for maximizing flexibility.
ENHANCES WORKOUTS AND REDUCES INJURY RISK The revolutionary TRUEStretch provides a dedicated, self-contained stretching area that allows users a safe platform for comprehensive stretching to increase flexibility and reduce the risk of injury. TRUEStretch eliminates the need for floor-based stretching or leaning uncomfortably over other equipment or an exercise ball. The TRUEStretch is the state-of-the-art standard in flexibility equipment and provides an effective stretching regimen for all ages and body types.
SPACE EFFICIENT, SOLID STEEL CONSTRUCTION The footprint of the TRUEStretch is 48″W x 87″H x 60″D which protects your valuable floor space and adds considerable value to any exercise routine. Like all TRUE equipment, it's built to endure the rigors of daily heavy usage. The TRUEStretch's 11-guage welded steel frame is protected by a silver powder coat finish that will last for decades and is covered by a one year parts warranty.
EASY TO FOLLOW STRETCHING REGIMEN TRUEStretch comes with an easy-to-follow exercise placard that is displayed on the frame. This full color photo- illustrated display is organized by muscle groups and features 30 different stretching exercises. All are designed to mimic real-life, real world stretches. TRUEStretch effectively stretches the body in all three planes of motion (front to back, side to side, and rotational) while keeping the user in natural upright positions with four points of contact (both hands and both feet) for proper body alignment, stability and safety. Physical Specifications Weight 180 lbs (82 kg) Maximum User Weight 500 lbs (227 kg) Footprint 87″H x 60″D x 48″W (221 cm x 153 cm x 122 cm)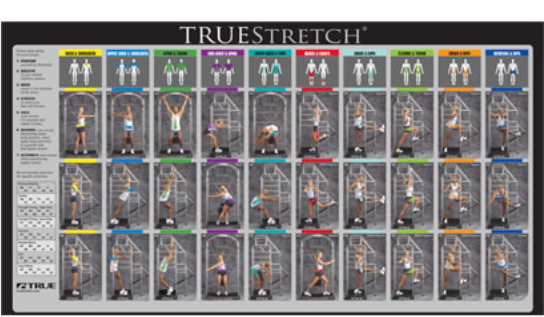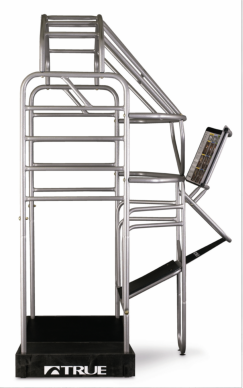 Available in 3 Models:
800SSPRO (Tall users)
800SSCLUB
800SSGOLF