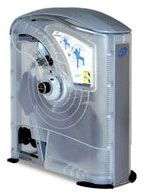 The Future is One
Introducing Nautilus One™, the next generation of single-station strength. Nautilus One™ combines a revolutionary new weight stack technology with the most intuitive and user-friendly selection method ever created: a dial. The result is a line of equipment that finally brings single-station training into the 21st century
Strength Sells!
When was the last time you showed off your strength line to current or prospective members? In most facilities, the strength line is required, functional… and kind of boring. That's all changed. Nautilus One™ has a sleek, modern design that will elevate your look, improve your members' training experience, and make strength a selling point for your facility
Easy to Use. Simple Design.
All units utilize a single weight tower design, always placed on the same side of the movement — line them up and create a clean, contemporary look

It's all about the Dial
Ever turned a door knob? Then you already know how to use Nautilus One™
* Select weight with the simple turn of the aluminum dial

* Turning the dial engages 'hook' mechanism to select desired weight

* The dial is based on the incredibly successful SelectTech dumbbells — millions sold means consumers (your members) know and value this product
* The dial is always within reach from seated position — no more bending down, reaching behind or standing up to adjust weight selection

* We showed this idea to gym-goers, and they told us putting the dial on a selectorized machine makes it easy-to-use, improves their training experience, and is just plain "cool"

Easy to Use. Simple Design.
All units utilize a single weight tower design, always placed on the same side of the movement — line them up and create a clean, contemporary look
* Patent Pending weight Stack Technology — a rack of plates, stacked side-by-side, are partially visible behind light, translucent shrouds

* Weight tower is only 47″ high, creating an open, uncluttered look
* Fewer pulleys and belts than current weight stack technologies, no guide rods and no weight stack pins
* The result is a smooth, plate-loaded workout feel from a selectorized machine

Features that Perform
* Custom, hand-crafted upholstery, overstuffed and contoured for ultimate support and comfort
* Standard hydraulic seat adjustments with direct-linkage adjustments
* Instructional placards are large and graphical — no text — and utilize lenticular images (they move as you move your head) to visually demonstrate correct movement

* Large red markers on axis points allow user to properly align joints
Virtually maintenance free
* No guide rods to lubricate
* No weight stack pins to bend or get lost
Weight Systems:
* Range of motion limiters available
* All machines (except Leg Press) come standard with 250 lb weight system, adjustable in 10 lb increments (10,20,30…); add-on weight is a 5 lb increment; total weight potential is 255 lbs

* Leg Press standard with 425 lbs, adjustable in 25 lb increments (50,75,100…); add-on weights are adjustable in 5 lb increments (+5,+10,+15,+20); total weight potential is 445 lbs
* All machines can be purchased with the optional 250 lb weight system, which features add-on weights that are adjustable in 1 lb increments (+1, +2, +3…+9); total weight potential is 259 lbs
* Each machine is upgradeable to the 425 lb weight system, adjustable in 25 lb increments (50,75,100); add-on weights are adjustable in 5 lb increments (+5,+10,+15,+20); total weight potential is 445 lbs

Download a Custom Color Chart
(Please note: Standard frame color choices for Nautilus Commercial Free Weights include only Silver or White. Black and Powerhouse Granite would require custom color treatment and lead times.)