ErgoStyle ES2000 Elevation, Adjusting Table
The ES2000 changes how all adjusting table are viewed. Its modular design allows for quick modifications and upgrades in the field. Upgrades can be added later as your techniques and practice grow.
Standard Features
• Electric Elevation from 20" to 32" (51cm – 81cm) in 10 seconds with single foot control and expanding covers over lifting mechanism
• Tilting headpiece with fixed face cushions
• 22" (56 cm) width seamless cushions with multi-density foam
• Paper Roll Holder and Cutter
• Extending Ankle Rest
• Powder coated paint
• Available in choice of standard colors
Optional Features
• Upgrade to Auto-Cocking Simple selector switches allow choice of one, two or three drops in any combination for repeated use. With a simple press of the foot control, the table is cocked and ready for use.*Please note: When upgrading to Auto-Cocking, all three drops (thoracic, lumbar and pelvic) must be purchased together. Auto-Cocking on a single drop is not available.
• Patented modular Accelerator™ II manual and Auto-Cocking drop design provides faster acceleration with increased tension and future upgradeability (Patent # 6,679,905)
• Break-away elevating chest with infinite locking capability and single or dual side control assures proper patient "fit"
• Choice of 4 headpiece model upgrades from basic tilting to full drops, all with adjustable face cushions
• Optional Drops with bilateral controls
Headpiece Options
ES95000 – Tilt, Fixed Face Cushions
ES95001 – Tilt, Adjustable Face Cushions
ES95002 – Tilt, Forward Drop, Adjustable Face Cushions
ES95003 – Tilt, Elevation, Adjustable Face Cushions
ES95004 – Tilt, Elevation, Forward Drop, Toggle Drop, Adjustable Face Cushions
Table Options
ES95005 – Breakaway/Elevating Chest
ES95006 – Accelerator™ II Thoracic Drop
ES95007 – Accelerator™ II Lumbar Drop
ES95008 – Accelerator™ II Pelvic Drop
ES95009 – Elevating Pelvic Section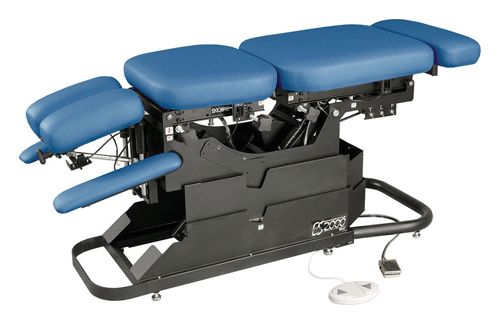 Video:1
Video:2